The Montreal Canadiens. The New York Yankees of hockey. They have the most championships (24), a storied history (original six franchise, 18 retired numbers, 56 Hall of Fame players), and possibly the most reviled fan base in the NHL. With such rabid and demanding fans, mediocrity does not sit well, and since winning the Cup in 1993, that's exactly what Les Habitants have been. A couple of surprise trips to the Conference Finals aside, it's been either second round exits at best, or missing the playoffs entirely. They had an opportunity to change all that last season.
Carey Price, the best goalie on the planet, was back playing at the top of his game. He won damn near every award a player could win in 2015. His 2016 season was lost due to a knee injury, and the team failed to make the playoffs. Last season, he rebounded in a big way, playing 62 games and reasserting himself as the backbone of the Canadiens. Seeing what happened to the team without him, GM Marc Bergevin knew he had to build a contender, a team prepared to win now. This knowledge (or paranoia) may have caused him to sign off on arguably the most controversial trade in Canadiens history.
On June 29, 2016, Bergevin traded fan-favorite P.K. Subban for Nashville Predators man-mountain Shea Webber. His objective reasoning must have been to obtain a hulking presence on the blueline, one that will intimidate smaller forwards and punish anyone that comes within 3 feet of Price. Oh, and he has the hardest shot in the league. That's not to say that Subban doesn't have a hard shot or a physical presence, but Webber has a reputation that intimidates opponents long before they even come face to face with him.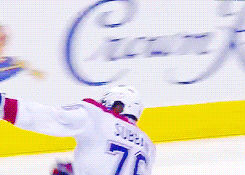 Even then, neither player is far and away better than the other. Webber is bigger, stronger; the prototypical wall of a defenseman. Subban was the younger, faster, more mobile player that the league is leaning towards. It is not these characteristics that caused the trade, however. It was the subjective reasons coming out of Montreal for a few seasons that caused the first brick to fall.
It was long rumored that Bergevin felt Subban was too flashy, self-involved and not enough of a locker room presence, and that if the team were to move forward, he had to go. And so he went.
After Subban was traded, the team went all in, signing Alexander Radulov, long thought to be the best hockey player not in the NHL, to a one year deal. They would also pick up Andrew Shaw, Jordie Benn and Steve Ott, stocking up for what everyone assumed would be a big post-season run. After losing to the Rangers in 6 games, then watching Subban and the Predators get to the Cup Finals, Bergevin wasn't about to stand pat.
Before moving on to the other moves made that took Montreal from Cup contender to Lottery contestant, you have to understand Bergevin's MO. The running joke around the league is that you need to have at least one out of three characteristics in order to play for Le Bleu-Blanc- et Rouge.
1) Play a physical, gritty style of hockey.
2) Be French-Canadian, or at least Francophone.
3) If nothing else, just look French-Canadian.
I've long been a proponent of giving a stacked lineup more than one chance. If you get knocked out early one year, keep the band together and give it one more honest try, at the very least. If it doesn't work out, then make your moves. Applying this method to the 2017-18 Canadiens, we might be looking at Montreal battling Tampa at the top of the Easter Conference standings. Alas, that was not the road Marc Bergevin took.
At the end of last season, Montreal was right up against the cap, with two very important free agents to sign. Alexander Radulov had a respectable return to the NHL, scoring 54 points in 76 games. He made it known that he wanted a 5 year deal, but no dollar amount was specified. He had just come off a one year deal worth $5.75 million, so one would think at least that, if not a little more. That was more than Bergevin was willing offer, so he let him walk, eventually signing a 5-year, $6.25 million deal with Dallas. Who did Bergevin find to fill the Russia-sized hole on his top line? Journeyman winger Ales Hemsky, who spent the previous 3 years in Dallas, putting up 78 points in 166 games.
The other big name our main man Marc needed to keep on the team was Canadiens lifer Andre Markov. He spent his entire 16-year NHL career in Montreal, and now that the club was free of Radulov's contract, Markov was all but guaranteed to re-sign, right? Not so much. Without even hinting at the details, the team let him walk (or refused to sign him, depending on who you believe).
Ok….ok…. so you lose your top winger and longtime d-man who ran your power play. At least you have that Sergachev kid back there, right? He looks like a stud. He can jump right in for Markov and pick up those minutes, right? Oh…. you traded him to Tampa for a French-Canadian winger and forced him to play center, a position he's never played? That makes sense.
Don't get me wrong, Jonathan Drouin is a supremely talented winger and is only 22, so he's still on the upswing. But you gave up Mikhail Sergachev?? A 19-year old, 6'3", 220lb prodigy, and you gave him to TAMPA??! A team that was predicted to be a Cup finalist before the trade??? Just for a quick check-in, Sergachev is slotted on Tampa's second pairing, has 26 points already (11 on the powerplay), while averaging just under 16 minutes a game. Drouin? He's currently centering your third line and has 20 points, 9 of which were on the powerplay.
The end result? Through 45 games, Montreal has 42 points and is 11 points back of the final wild card spot. In order to make the playoffs, they'd roughly have to play .670 hockey. Not completely out of the realm of possibility when Carey Price is your goalie, but he'd have to play almost every night and you still have plenty of games against Pittsburgh, Tampa and Toronto. Marc, if you're trying to get the fans in Montreal to revolt and demand another team in Quebec, you're doing a fantastic job.
But look on the bright side. If you miss the playoffs, you're entered into the draft lottery. I'm sure Rasmus Dahlin will fit right in on that blue line, so long as you don't trade him for another winger.
Please reload