There's Too Much Fouling at the End of Basketball Games and I'm Sick of It
It was 8:54pm, and Xavier was set to tip-off at 9pm. I figured I'd tune in to FS1 a bit early to catch the end of the Providence/Villanova game before the Musketeers took on Seton Hall. There was a little under 3 minutes to go in the game, and Providence was holding on to a seven point lead.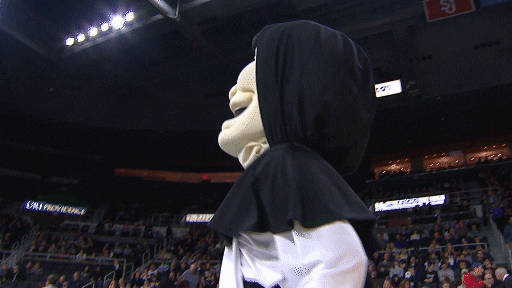 At 9:22pm, the final whistle blew in Rhode Island, and the fans rushed the court as Providence pulled off a huge upset, knocking off Villanova 76-71, nearly two and a half hours after the initial tip...and the game didn't go to OT.
Fans were fored to sit through 28 minutes of bullshit to see about 3 minutes of game action. Let's take a look at why it took so long.
From the 3 minute mark to the 1:47 mark, the game was a sloppy back and forth of missed shots, turnover, and blocks until Omari Spellman finally slammed one home to close the gap to 5. The next bucket didn't come again until 1:14 remaining, when Providence's Alpha Diallo hit two free throws to get the lead back to 7. And that's when shit got awful.
Over the next 1:14, Villanova committed 8 fouls, and we sat through at least 3 reviews on balls that went out of bounds. Thank God Villanova didn't have any timeouts left, as only a Providence 30 second time out was taken in that stretch. Otherwise, that game might still be on.
The "highlights" for the last 3 minutes start at the 2:59 mark in this video.
It's a normal thing in college basketball. Close games are full of fouls that stretch the end of the game out, all in the hopes that the other team misses their free throws and to conserve the little clock that's left. But I'm sick of it.
An idea was floated by Steven in the Craft Brewed Sports Facebook Group that I think we need to get in place immediately: power plays in college basketball.
The idea is fantastic. In hockey and lacrosse, if you commit a penalty, you're off on the side for a bit while the other team gets the benefit of the extra man. But in basketball, you get to wrap up a dude as soon as the ball in inbounded and then just wander down to the end of the court and hope the guy apples up and misses during untimed shots. It's time to send those dudes to the penalty box and give the other team a man-up opportunity. And all of that shit at the end of the game would stop immediately.
Sure, we'd lose out on instances of teams making dramatic comebacks with barely any time left. But games won't run as long, the strategy would completely change, and we'd probably see some amazing dunks when we get the inevitable 5-3 power play. People don't watch basketball to see free throws. People watch basketball to see 3's, and dunks, and actual game play. So let's get rid of the bullshit down time points and get some extra offense.
Make it happen, NCAA!