The NHL's Cinderella story. The expansion team that could. All season, Vegas has defied the odds, shattered expectations and set records for what an expansion franchise could achieve in their first year. After sealing the division win, I'm sure postseason expectations are high, as well they should be. For your own sake, Knights fans, don't put them too high. Here's why:
1) How long can playing to spite your old team last?
At the expansion draft, nearly every expert expected GM George McPhee to gouge every team for anything and everything he could get. When that didn't happen, questions were asked and no one really took this roster seriously, expecting it to be built for future success. Fast forward to today, and this team composed of cast offs and spare parts is beating much more established teams expected to win now. Players like William Karlsson and Eric Haula were buried on the depth charts of their previous teams. The general consensus on David Perron, while still thought of as a good depth player, was that his best years were behind him and a 60 point season was implausible. Players having great seasons as a result of "having a chip on their shoulder" is nothing new, but it also doesn't last. The whole team has been playing like this for an entire season. Can the playing to spite your former employer mentality last through the playoffs? Like any good buzz, probably not.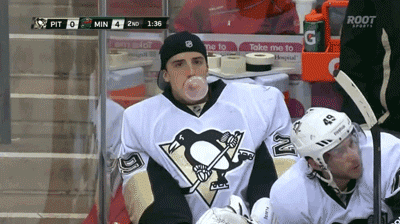 2) Marc-Andre Fleury doesn't have a stellar post-season record
I'm a huge MAF fan. His energy. His enthusiasm for the game. Those athletic saves he makes on a regular basis. What's not to love? But even I have to admit, come playoff time, he becomes more of an adventure than you want in net. He'll make acrobatic saves, then let a seemingly routine shot slip through, oftentimes in the same period. Yes, last season he frustrated the Blue Jackets then straight up stole the series from Washington. But the gas tank started run dry against the Senators, but Matt Murray was ready to take the baton and finish the run. "But how bad could it be, JB?! The Pittsburgh fans loved him, and he has three rings!" Yes, I know, and I love him too, but we all love that cute dog who's just so energetic and fun, but can't catch a ball or Frisbee to save his life. Here's stats for you. In 6 of his 11 playoff runs, he has a SV% of less than .900. In four of those, he has a GAA of more than 3.0. You cannot expect to last long in the postseason when your starting goalie can't stop a beach ball.
3) This is the first time most of these players are making a playoff run.
While it's true that most of the roster has been to the playoffs before, with the exception of James Neal and Luca Sbisa, they haven't been in the roles they are now. We all know the playoffs are a different animal, but for players like William Karlsson and Jonathan Marchesseault, this is their first playoff run as top line forwards. This team is looking to them to carry the load and pull this team deep into the playoffs. Will they be up to the task? History says that, for first time visitors, the learning curve is too steep.
Vegas, you were the belle of the ball this year. No one saw it coming, and you took the league by storm. But, the clock has struck 12 and your Cinderella season is going to end without Lord Stanley's Cup. No reason to hang your heads though, it was a hell of a run and your future looks brighter than The Strip on Saturday night.
Please reload