The Pittsburgh Penguins have been the only ones to raise the Stanley Cup the past two seasons. What's to say they can't do it for a third straight year? Well, a lot actually.
1) The defense isn't as good as years past.
The Penguins defense has never been the toast of the league. When you have players like Crosby, Malkin and Kessel on your squad, the salary cap simply won't allow for a team to be that stacked anymore. However, they did find some defensive stalwarts to stand guard come playoff time. Two years ago, they had Trevor Daley and Ian Cole on the back line. Last year, they added Ron Hainsey, who proved to be invaluable when #1 D-man Kris Letang was sidelined for the entire postseason. This season, both Daley and Hainsey departed, and were essentially replaced initially with Matt Hunwick. Later in the season they added Jamie Oleksiak. No disrespect to either player, but the season stats speak for themselves. For the majority of the season, they were operating with either a negative or single digit goal differential. That may not sound like a big deal, but when the top teams in the league are operating at +50 or 60, you realize just how bad things have gotten.
2) Matt Murray hasn't had a solid year.
Yes, I'm calling out the goalie who only wins Cups. Seriously, he's been in the league two years and already has two rings. His stellar play the past two seasons has been a big reason why. However, this year has not been his best. He's posted a 2.92 GAA and .907 SV%, easily the worst of his career. However, this has also been his toughest year personally. Having taken time off for his father's funeral as well as missing time due to a concussion, he never really had a long enough stretch to establish his game and get back to the level of play everyone is used to seeing. Now that he's healthy, can he find his game and will the Penguins back to the Finals? We shall see.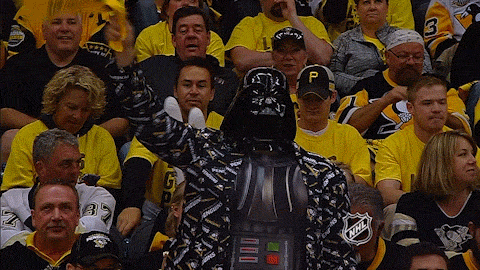 3) Teams don't three-peat anymore.
Until last season, it had been 20 years since a team won back-to-back Cups. Want to find the last team to win three in a row? You'll have to go back to the early '80s when the Islanders won from 1980-1982. Back then, dynasties were all the rage. Before the Islanders, Montreal won four in a row from 1976-1979. Immediately after the Islanders, the Oilers won five out of seven Cups. After that, only repeat winners. In today's league, parity rules. As I pointed out in a previous post, the NHL has the fewest teams to make return trips to the Finals of any of the four major sports. Trends aside, by simple virtue of winning the Cup twice, Pittsburgh has played more hockey than any other team in the league. Combined, they've played 49 postseason games in addition to the 164 regular season games. If one playoff run takes a toll, imagine how much two consecutive runs will run you down. It's probably the biggest reason repeat champions are simply not a thing in the NHL.
As much as I hate to say it, the three-peat isn't going to happen. There's too much to overcome in their own locker room, never mind potentially facing Tampa or Boston in the Conference Finals. It's been a great run boys, but you're going to have to savor those two rings. The third isn't coming this year.  
Please reload