Hab Fab? Canadiens Wear Myth Well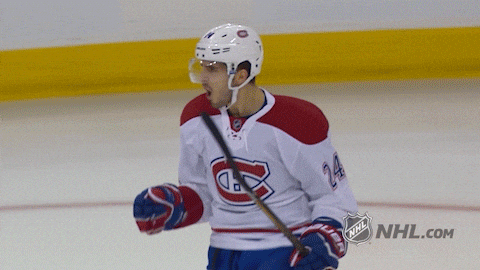 There are few more distinguished uniforms in sport.
The Montreal Canadiens have won 23 Stanley Cups since first skating in 1909. That's more than the Boston Celtics' measly 17 NBA championships, and second only among North American sports franchises to the New York Yankees' 27 World Series championships.
There are few more familiar uniforms in sport.
Even a casual sports fan could look at the red, white and blue — bleu, blanc, rouge for sticklers — Canadiens jersey, with its "CH" emblem, and name the team that wears it. After all, the Canadiens haven't much changed the look for 90 years — astonishing consistency in the rapidly evolving world of hockey gear.
But the changes were many, and varied widely, in the club's first decade and a half.
Spelling It Out for You
The "H," stands for "hockey" — but more on that in a bit. It's "Canadiens," with an "e," because that's the way it's spelled in French, and, you know, by French Canadians.
In the beginning: The Canadiens debuted in 1909 with a blue jersey that might have passed for a jockey's silks if designed by a fencer. Blue, with a white collar and a bib-like structure trimmed in white, bisecting a large, white "C." But hey, Newsy Lalonde wore it, and you won't find a better hockey name than that this side of "Boom Boom" Geoffrion.
Pre-leafs leaves: Sorry, Toronto Maple Leafs, but the Canadiens donned the leaf motif in 1910, before you came into existence in 1917 as the Toronto Arenas, and a full 17 years before you adopted your current name. The Canadiens' second jersey was a red number, trimmed in green and white at the neck, waist and sleeves, with a green maple leaf crest emblazoned with a stylized "C" and "A" logo — for "Club Athlétique Canadien," or Canadian Athletic Club.
Changing lines: There were two more one-season wonders. In 1911, the Canadiens donned a white jersey with two stripes running diagonally from the right shoulder to the left hip, with the "CA" crest floating in the space at the upper left. Next came the "barber pole" jersey; alternating red, white and blue stripes adorned with a white maple leaf and the letters "CAC." It was brought back, to mixed reviews, as an alternate jersey in 2009.
Becoming the Habs: One problem with the barbershop look was that Ottawa had a similar sweater. Montreal went with a single, solid color bar across the chest, adorned with a "C," when playing the Senators. By the next season, that became the full-time jersey, further adorned with white stripes on both sides of the color bar, and a "CA" logo similar to today's "CH." The "H" replaced the "A" in 1916, when the Canadien Hockey Club purchased the team — never mind that a decade later, the owner of Madison Square Garden incorrectly
claimed the "H" stood for "Habitants," thus giving birth to the "Habs" nickname much beloved by brevity-seeking headline writers.
Aside from a one-year blip when the Habs wore an image of a globe as their crest in celebration of their 1924 Stanley Cup championship, their look has been largely unchanged — a stripe here or there at most — ever since.
In 1936, a white jersey was added to the red, primarily to ease confusion when playing the Red Wings. In 1941 a red shoulder yoke was added to both the white and the red jerseys. In 1944, the white jerseys mirrored the red by adding a thick, blue stripe across the chest — which would soon be removed, but only from the white jerseys.
Now, across several decades and different manufacturers, the jerseys have been essentially unchanged. No one is complaining.
Author bio: AJ Lee is Marketing Specialist at Pro Stock Hockey, an online resource for pro stock hockey equipment. Lee picked up his first hockey stick at age 3 and hasn't put it down yet. He's an avid Blackhawks fan and is an expert in all things hockey equipment.
https://www.prostockhockey.com/
https://www.facebook.com/ProStockHockey/